CPM Solutions, Inc.

Roger Jeter, President
I have had several projects completed through DK Web Designs, all of which I have been very pleased with! They have exceeded all of my project expectations and have provided my company with the online solutions we were looking for. Communication with DK Web Designs was extremely easy and they were always a phone call or email away with excellent response time. I have recommended DK Web Designs to other consultants which are now doing business with them as well!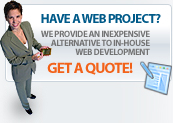 Designed as mutually beneficial business and brand building efforts; DK Web Designs engages in formal and informal partnerships with complimenting technology companies, websites, and digital artists. Partnerships may be as simple as adding affiliate links to a website in exchange for sales commissions, or more complex including the creation of specialized business to business exchange platforms combined with revenue sharing models.

Resellers
DK Web Designs provides not only great web hosting service but also provide a way for you to benefit from that service. As a reseller, you can enjoy multiple benefits by simply reselling our accounts. Please contact us and see how we can create a reselling plan for you.
Premier Partners
Complimenting business that bring value to DK Web Designs customers - plain and simple, that's what we define as a Solution Partner. Typically, Solution Partners will provide an Internet related business service to DK Web Designs that will help us to provide excellent service to our customers.